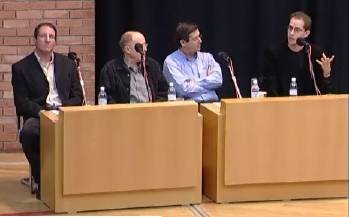 On Sunday last week, a global warming debate was held at the Hebrew University, in front of a large public audience. The speakers included myself, and Prof. Nathan Paldor from the HU, on the so called sceptic side, and Prof. Dan Yakir (Weizmann) and Prof. Colin Price (Tel-Aviv Univ.) on the anthropogenic greenhouse gas (AGHG) side.
You can watch the debate, in Hebrew at the
Authority for Community and Youth of the Hebrew University
. Since most of the readers are not from Israel (98% of the visitors to sciencebits.com), here is a short synopsis. It is followed by a detailed response to the claims raised against the cosmic ray climate link.